Tuesday, November 6, 2018
The GWP community is grieving for the injuries and loss of life at Tree of Life on October 27.  It is hard to fathom that our beloved home has become another terrible instance of lethal violence, fueled by hate.  The GWP team offers our sincere condolences to the families and friends of those who were killed and wounded.  By sharing the resources on our website, we hope to support the process of healing and recovery. 
Thousands of people gathered on Sunday for a vigil to remember those who were victims of the shooting at the Tree of Life Synagogue. Mayor Bill Peduto, Allegheny County Executive Rich Fitzgerald and numerous other dignitaries spoke at the event and called for unity over hatred. The Soldiers & Sailors Memorial Hall and Museum vigil featured a video message from the president of Israel and an in-person message from an Israeli cabinet minister.  
Many community leaders have issued statements about the tragedy.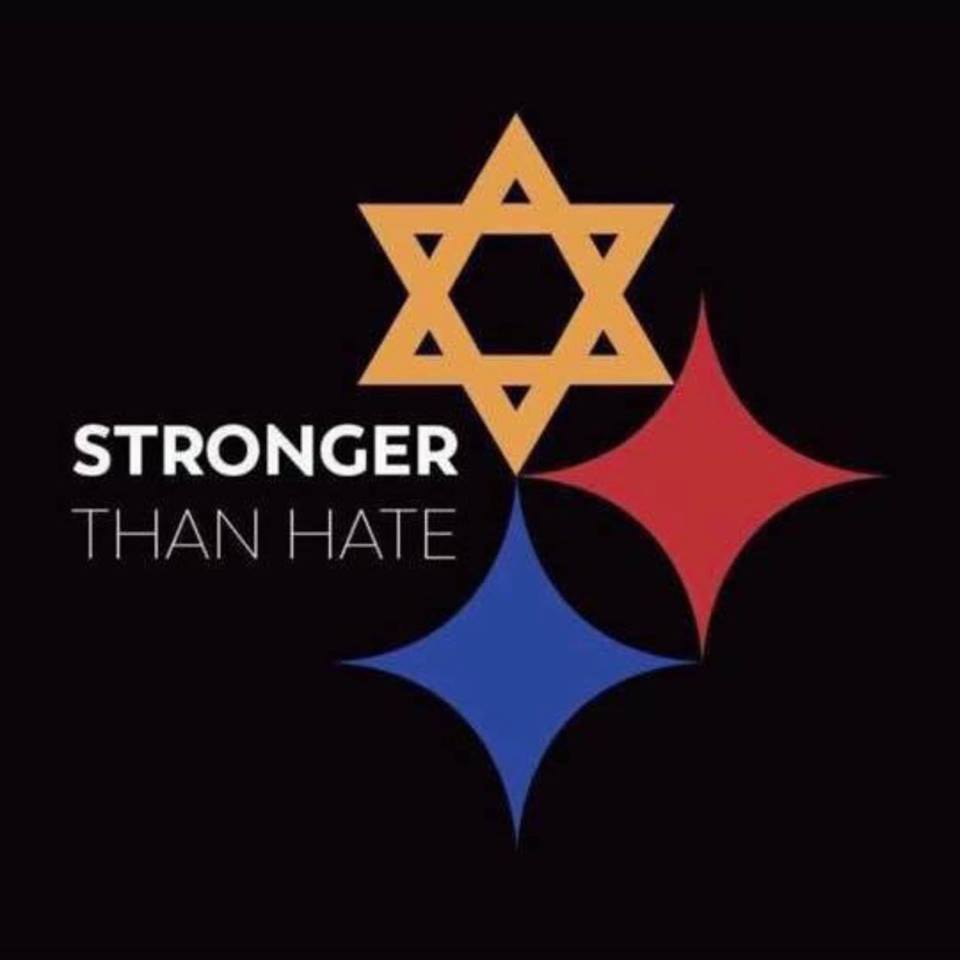 ---
In response to the shooting at the Tree of Life synagogue on Saturday, we are compiling resources for those interested in providing support:
Jewish Federation  - Victims of Terror Fund 
If you would like to help, you can contribute to the Jewish Federation of Greater Pittsburgh's "Our Victims of Terror Fund."    The United Way of Southwestern Pennsylvania will match donations, doubling the impact of your contribution up to $100,000. 100% of donations collected for the "Our Victims of Terror" fund will support psychological services, support for families, general services, reconstruction, additional security throughout the community, medical bills for all those involved, as well as counseling and other services that may prove necessary in the future.  
GoFundMe
GoFundMe has established a page using its Certified Charity Campaign.  Funds raised will go to the Tree of Life Congregation to help cover damage to the building as well as supporting survivors and victims' families.
Islamic Center of Pittsburgh
The Muslim community is raising funds for the victims and their families, including funeral expenses and medical bills.Over $100,000 has been raised through the Launch Good campaign, Muslims Unite for Pittsburgh Synagogue.
The Carnegie Library of Pittsburgh is compiling information and resources related to Saturday's tragic events and the grief and healing that will follow.
Family Assistance Center at the JCC Squirrel Hill
Please note: while the American Red Cross of Southwestern PA has been providing assistance, it is not fundraising for its work with victims and families at this time.
---
How GWP Members Are Responding
American Eagle Outfitters
$100,000 donation to the Anti-Defamation League to expand its No Place For Hate program.  The program serves to educate and empower youth to prevent acts of brutality such as occurred in our city of Pittsburgh from happening again.   With public displays of discrimination on the rise, it is more important than ever for high schools and colleges to define expectations in behavior for all members of the community.
 $25,000 contribution to teen education programs at the Tree of Life Congregation. 
2-to-1 match of all associate donations to the Anti-Defamation League and to the Tree of Life Congregation through the end of this month.
EQT Corporation and P3Revents will donate $35,000 ($1 for every mile completed during the 2018 EQT Pittsburgh 10 Miler) to support the victims of the shooting at the Tree of Life Synagogue, their families, and the first responders who were injured trying to protect our city's people. This amount will be split evenly between the local Jewish community and the City of Pittsburgh's first responders.
PNC Foundation has donated $100,000 to the Jewish Federation of Greater Pittsburgh's "Our Victims of Terror" fund to help those impacted by the shooting and comitted to matching PNC employee contributions to the federation, up to another $100,000.
84 Lumber is accepting donations for ACHIEVA, a local organization that supports those with disabilities.  84 has a special connection to David and Cecil Rosenthal who were among the 11 victims. 84 Lumber would like to show their support by giving back to the organization that enabled David and Cecil to thrive in the community they cherished. Maggie Hardy Magerko will personally match all contributions made by November 15.